When a spouse loses their partner, a parent loses a child, or a child loses a parent through the negligence, carelessness or intentional wrongful act of another person, that loss is exponentially more tragic. Navigating the legal landscape of a wrongful death claim is complicated and requires the expertise of the experienced law firm of Rudolph & Hammond. In Arizona, there are laws in place to provide legal recourse in the event of certain wrongful deaths.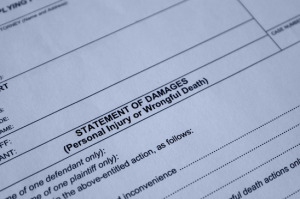 What Constitutes Wrongful Death?
The term "wrongful death" applies to a specific set of circumstances wherein a death occurs through negligence, carelessness, or through an intentional wrongful act. At Rudolph & Hammond, we see the most common wrongful deaths resulting from:
Motor vehicle accidents
Falls
Workplace accidents
Defective or dangerous products
Dangerous property hazards
Fires
Medical malpractice
Violent acts
Not every death caused by another is considered a "wrongful death." There must be an element called a "duty of care," and evidence must prove that the responsible party did not exercise that duty. For example, a driver has the legal duty to drive in a manner that is reasonably safe for the road, traffic, and weather conditions.
Where we see this most frequently is with an aggressive or distracted driver or a person driving under the influence. All drivers are responsible for a "duty of care" when driving. When they disregard this duty and drive in a way that endangers others, they must be held responsible for the damage they cause, including the death of another.
Know the Time Limitations for a Wrongful Death Claim
Piecing together the events and processing the fallout from a sudden, tragic death can be overwhelming, in the least. However, if you believe your loved one was the victim of negligence by another, there is a finite amount of time to pursue an action against this person. Arizona law sets out a two-year deadline, and in some cases a one-year deadline, for wrongful death actions, which is called the "statute of limitations." This deadline begins from the date of the death–not the date of the incident that caused the death. So, for example, if a victim spent three weeks in the hospital after a car accident before they passed away from the injuries sustained in the accident, the time limitation begins on the date they passed away.
If you believe your loved one was the victim of a wrongful death, don't wait to consult an attorney. It takes a great deal of time to investigate, perhaps interview witnesses, and comb through documents in order to craft a comprehensive lawsuit supporting your claim. Let us get to work preparing the evidence we need to hold those responsible accountable.
Wrongful Death Claims May Be Brought By Select Family Members
The law is very specific regarding who can make a claim for wrongful death, and not every loved one is covered. Unfortunately, the law identifies only three parties who are entitled to make a claim. Under Arizona law, the only surviving family members who may file a claim are:
Reasons for Filing a Lawsuit
The following are examples of some types of losses that may be compensated if you prevail in a wrongful death case include:
Lost financial support and earning capacity of the deceased
Lost services and support the deceased would have provided
Lost comfort and companionship
Emotional and mental pain and suffering, distress, and anguish of the surviving family members
Because many of these losses cannot be objectively quantified, the amount available for recovery in a wrongful death action can vary significantly from case to case.
The Experienced Wrongful Death Attorneys at Rudolph & Hammond Can Help
If you have had a loved one die as a result of someone else's negligence, please do not hesitate; call our office, and we will speak to you the same day about scheduling a consultation. You have many things to worry about, but our fee will not be one of them because we work on a contingency fee basis only. At Rudolph & Hammond, our client's welfare comes first–we accept no fee for helping you unless we win for you!