Nursing home abuse has tragic consequences. Bedsores, bruises, illnesses, emotional distress and wrongful death can happen when retirement home staff members neglect their duties.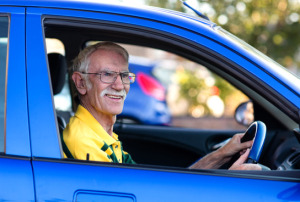 Unfortunately, the problem is widespread in the United States. According to the Gerontological Society of America, inadequate staffing renders 90 percent of nursing homes incapable of providing quality care. In fact, the average patient gets roughly three hours of care each day.
If your loved one was neglected or abused at a nursing home, contact the Rudolph & Hammond Law Firm. A personal-injury attorney in Phoenix will evaluate your case to determine if you have grounds for a claim.
Call 480-951-9700 to schedule a consultation. Until then, read on to learn about five common types of elder abuse in nursing homes:
Physical Abuse
Nursing home staff members have difficult jobs, but there is no excuse for physically abusing a resident. This often happens in an attempt to get a resident to cooperate. Reports are widespread about the illegal use of arm and leg restraints, pushing, hitting, kicking, scratching, pinching and more.
Visible abuse usually leaves a sign such as a bruise, bedsores or broken bones. If your loved one has unexplained signs of abuse, ask questions and take action immediately.
Emotional Abuse
The level of emotional suffering in some nursing homes is overwhelmingly heartbreaking. When caretakers ridicule, humiliate, demean, terrorize, degrade or embarrass residents, they are committing emotional abuse.
Sexual Abuse
Far too many reports of sexual abuse are emerging from elderly care facilities. These reports describe cases of rape and sexual intimidation such as forced public undressing.
The group most at risk is residents who rely on caregivers for personal hygiene, such as going to the toilet or bathing. Offenders may use coercion, tricks, force or other manipulations to commit sexual abuse.
Financial Abuse
Cognitive decline, visual problems, eye diseases – there are many reasons why senior citizens may have trouble managing their finances. According to the National Center on Elder Abuse, cognitive impairment makes many nursing home residents ideal targets for financial abuse.
Many residents can no longer manage their own estates. Caretakers frequently take advantage of this if given authority over bank accounts and other financial data.
Neglect
Neglect is a serious problem in nursing homes. It has severe consequences for residents such as bedsores, hygienic problems, medication errors and worse.
Understaffing is the most common cause of nursing home neglect. However, some staff members are simply unqualified or incompetent. Neglecting a resident can cause unjustified pain and suffering and life-threatening health complications.
If your loved one was mistreated in a retirement home, contact the Rudolph & Hammond Law Firm. An Arizona nursing home abuse attorney will gather evidence, structure your claim, handle settlement negotiations and litigate your case if it goes to trial.
We have more than 60 years of combined experience protecting the rights of the injured. Call 480-951-9700 to schedule a consultation.